Moe hat in seinem Blog auf zwei nette Videos hingewiesen :
Zwei eindrucksvolle Base Jumping Videos: Trailer von "1st Base" (MPEG), A Year in the Life of Jeb Corliss (WMV)
Base Jumping ist irgendwie nur was für die ganz Harten. Mensch, und ich dachte (1996), dass ich in Neuseeland beim Bungiespringen schon echt mutig war. Aber schön dass ich noch einmal daran erinnert wurde. So habe ich auch gleich das alte (teuer bezahlte) Foto rausgekramt und endlich eingescannt.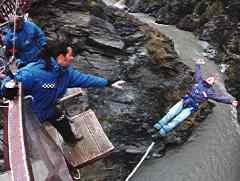 Dieser Sprung war eine ganze Tagestour, mitten rein ins Nirgendwo. Alleine die Jeepfahrt zur Brücke war schon ein eigenes Abenteuer. Jeder in unserer kleinen Gruppe hatte zwei Sprünge gebucht: einen vorwärts und einen rückwärts (von dem ist das Foto). Wie es der Zufall wollte, lag von der Vorgruppe noch ein Seil für meine Gewichtsklasse an. So "durfte" ich dann gleich als erster springen. Wow, es war grossartig.